Greetings! What a busy biennium it has been!
It's almost hard to believe how quickly the last two years have passed. It's so gratifying to see how active our alumni are and how they have supported the mission of the Fraternity.
I hope that you are planning on attending our convention in Buffalo. We have another exciting program planned, as well as fun and sisterhood too. Our trip to Niagara Falls promises to be nothing short of spectacular. If you've never experienced the falls, I promise you, it's breathtaking. You can actually FEEL the rumble of the rushing water.
One of my duties as an officer is to represent LKS at professional gatherings, such as ASHP and APhA. It's always exciting to meet and greet sisters in the exhibit hall.We have both collegiates and alumni stop by. In my visits with LKS sisters, I continue to hear how respected we are on campuses. We truly represent the very best of pharmacy. Colleges of Pharmacy everywhere are proud to have an LKS chapter as part of their school.
No doubt you have seen the election results for the upcoming biennium. I'm beyond thrilled that I will be serving you as Grand President. I'm finishing my fifth term as Grand Vice President for Alumni, as well as having served two terms as a Region Supervisor. I feel that I'm well prepared to continue serving you in my new role.
LuShawna Dulin Lawson will be installed as the next Grand Vice President for Alumni. Please continue to share your awards, recognition and good news with her. I know that she's eager to serve you and has a great vision for our alumni members.
Thank you for another great biennium! Wishing you all the best, and looking forward to seeing many of you in Buffalo.
Fraternally,
Chris Grass
Grand Vice President for Alumni
Service to Lambda Kappa Sigma — Congratulations to our new Region Supervisors!
These alumni have answered the call and have been appointed as our new Region Supervisors: Katelynn Toeniskoetter (Northern New England), Amy Rumanowski (Eastern Atlantic), Samantha Moxie (Mid-Atlantic), Rachel Wylie (Northeastern), Tracee Abrams (Northern Lakes), Vanessa Carranza (Midwestern), Megan Dishman (Southern) and Michael VanLaanen (Western). We had a record number of applications for this position this year, which speaks well for the future of our Fraternity. Because of this, we were also able to select 5 alternates, who can serve in the case of a vacancy. Our alternates are Madeline Shurtleff, Sara Kolc, Kara Feldhake, Megan Leeds and Martika Martin. Additionally, we're planning to use the talents of these sisters to assist with special projects along the way. This will not only assist them in growing their leadership skills, but offering a valuable service to LKS as well. Involved sisters equals a stronger LKS!
Region supervisors visit our chapters, meet with university administration, communicate with the chapters and function as much more than just advisors. They're truly one of our greatest assets.
If you weren't able to commit to Region Supervisor service this biennium, please keep us in mind for 2020-2022. Sometimes it's a work or family commitment that keeps sisters from applying. Sometimes it's a concern that you don't know if you can do the job. I can assure you that the rest of Grand Council is here to support you. I would suggest that when your local chapter is being visited, that you consider joining in for the visitation – get a first person view of how a visitation runs, learn, have fun and meet some new sisters too! Please contact Amanda Higgins if you'd like a "test drive".
I'd like to say thanks to everyone currently serving as a Region Supervisor — you are paving the way for the future. You're helping to chart our course for the future.
Ewe Can Shop!

The due date was June 1st, but it's not too late! We still have spaces remaining for our annual vendor fair, Ewe Can Shop!
We often have sisters who are small business owners showcase those products with us as well. Occasionally, and depending on space available, we have outside vendors to offer their goodies too. As a reminder, Lamb-owned businesses are always given preference for available space.
If you would like to reserve a space, please click here. See you there, and be ready to shop!
onvention 2018 —
Buffalo, New York
July 25-28, 2018 will be here sooner than you think! If you haven't registered yet, please do so before 
June 30th
, 2018 for the best rate. You can register 
here
.
If you still need to register for a hotel room, you can call: 716-845-5100. Just be sure to mention that you are with the 2018 Lambda Kappa Sigma Convention for the discounted rate! If you need a roommate, we can often help identify other sisters looking to share a room. You can also check the LKS Facebook page, as sisters often post roommate requests there too.Please also consider a donation for the Convention goodie bags — treats, pens, lamb goodies…. you name it! Sisters are always very happy to receive these bags. If you have a business or are recruiting for a pharmacist position, you can even have your business card included in the bag. What a great way to reach a whole lot of sisters!
I'm looking forward to seeing YOU at Convention! Buffalo – Be There!!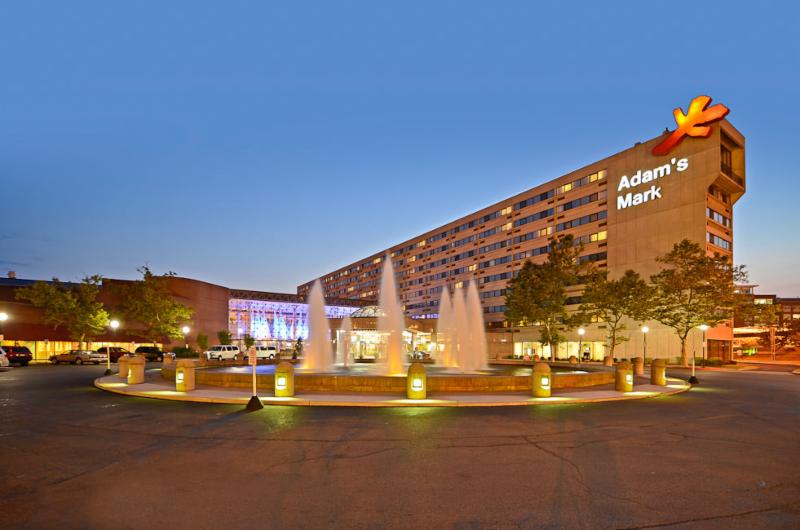 Congratulations, New Graduates!
This is Hao Min (Howie) Chang. I first met him at convention in Atlanta last summer, and also visited with him at the ASHP exhibit hall. As you can see, Howie is very excited to have graduated this year. He's also eager to begin life as an LKS Alumni!
If you are a new graduate, please be sure to log on to the LKS website and update your information. You've probably moved on from your university email address and quite possibly have a new mailing address as well. It's really important to keep this information current, so we know how to keep in touch with you. It assures that you will continue to receive our publications, especially the Alumni News and the Blue and Gold Triangle. It's also how other LKS sisters can find you, in the event that you are moving to a new area of the country.
Most importantly, your first year of dues after graduation is FREE! It's our way of saying congratulations on a job well done. We're always very proud of each and every sister that makes it to the finish line.
Again, my most heartfelt congratulations and welcome to alumni sisterhood.
The Educational Trust Reception and Auction
The Educational Trust reception will again be held at Convention. This is our opportunity to showcase the excellent work of the Trust and for you to have some fun! Included with the reception will be the silent auction and the live auction, both of which promise some very desirable items!
Last year, we raised $8,135.17 for the Trust at Convention. It's one of the major ways that the Trust raises money each year. All proceeds are deposited directly into the "corpus" or base of the trust fund, which then earns interest. The scholarships are then awarded from this interest. The larger the corpus, the more potential for earnings and therefore, more scholarships!
It's not too late to donate an item for the Trust Auction. If you can donate, please click here. The most desirable items are those that are easy to pack and travel with. And while pharmacy antiques and glassware are also popular, please remember that purchasers must be able to get these items home.
Thanks so much to our sisters who have loyally supported the Educational Trust for so many years. This is truly one of our greatest accomplishments!
Alumni Fundraising
You have got to admit that when you hear the word "fundraising", you immediately think of bake sales, candle sales, raffles and more. These kinds of events certainly have sustained many a chapter over the years. They are easiest to hold on a college campus, as you have a sort of "captive audience".
Alumni chapters raise funds for the Fraternity as well, usually to support donations to the Educational Trust, Project HOPE or other philanthropies. It's always gratifying, but not always easy.
We are looking to hear from you and your chapter…. what ways have you found to successfully raise funds? Something unique? Something tried and true? Do you collaborate with another organization, such as your collegiate chapter or even a college of pharmacy? Send us your best ideas and we will share them in an upcoming issue of the Alumni Newsletter!
What's New with Ewe?  
Nicole Pezzino (Alpha Phi alumni) 
recently held a gender reveal party with family and friends. I think the picture really does tell us all that we need to know!
Iva Keene (Alpha Iota alumni) recently celebrated her two year anniversary and celebrated big! Her new job, her husband nearing completion of his PhD, buying a house, buying a new car…. and just plain spending more time together (including more time with their dog, Adelaide). It's been a big year for you!
Danika Mathis (Alpha Zeta alumni) became engaged to Joe Critcheloe. He proposed at Hogwarts Castle in Universal Studios! She describes it all as "very magical".
Stefanie Ferreri (Alpha Beta alumni) As I mentioned in the prior edition of the Alumni News, Stefanie was selected to receive a very prestigious award at the APHA convention, The Distinguished Achievement Award in Pharmacy Practice. Here's the big presentation. Congratulations on this honor!
Rachel Chkautovich (Alpha Zeta alumni) is expecting a girl in October. Big brother and dad are pretty excited too! We're anxiously awaiting the new arrival as well!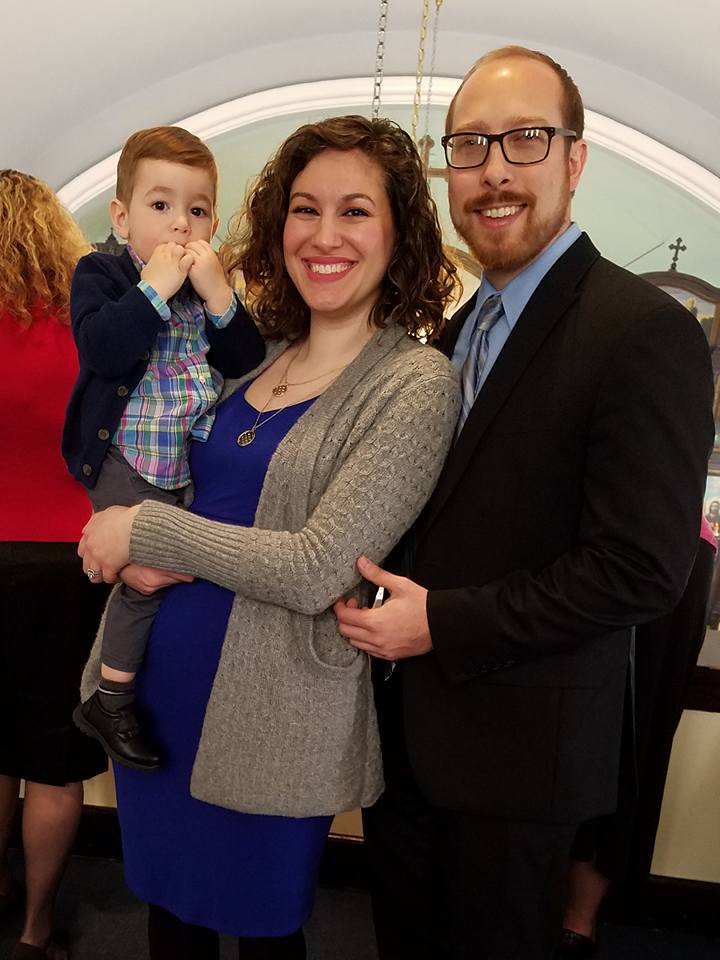 Mary Meredith (Tau alumni) is enjoying retirement and traveling….. and is building a new home in North Carolina! The home is located very near to some of the locations used in the movie Three Billboards Outside Ebbing, Missouri (no, it wasn't filmed in Missouri!). We can hardly wait to see pictures of the finished home!
Linda Eugenio Clark (Alpha alumni) was recently featured on a Facebook Live presentation, answering questions about diabetes and medications. LKS sister, Christine Perry, said that Linda is the smartest pharmacist that she knows, and is so very proud of her. We all are proud of you, Linda!
Lindsey Clark (Omicron alumni) shared pictures from her marriage to Ronnie Kendall. Congratulations to both of you!
Dixie Leikach (Epsilon alumni) was recently promoted to the position of Mary Kay Independent Sales Director. Congratulations, Dixie! We know that your love of Mary Kay runs deep.
Christina Inteso (Alpha Phi alumni) completed a personal challenge at Burn Boot Camp. She completed a 1000 rep challenge, which she describes as "anything but easy". We know your stamina and drive, and we aren't surprised that you finished it! Way to go! Christina, you may not think this is a great photo, but we find it AWESOME!
Nicole Lombardo Helsinger (Alpha Zeta alumni) was married to Erik Helsinger on May 5, 2018. It was a beautiful day at Tapawingo National Golf Course, as everyone witnessed the marriage. Although they are both animal lovers, no dogs or cats were there as witnesses!
Jessica Mazur Pyhtila (Epsilon alumni) was recently named New Preceptor of the Year by the University of Maryland School of Pharmacy. We're so excited for you!
Cedona Watts (Lambda alumni) and her husband Tommy have some exciting news….. they had their pup share it with us!  We can hardly wait to see what's ahead!
Christine Lee-Wilson (Epsilon alumni) was the keynote speaker at the Maryland NCPA Chapter end of the year banquet! We're always so proud to see our sisters in the spotlight!
Sara Kolc (Alpha Iota alumni) is beginning her residency as a Pharmacy Practice Resident with Meijer Pharmacies. Best wishes on the next step in your pharmacy adventure!
Kristen Querciagrossa (Alpha Zeta alumni) shared a lighthearted moment with her co-workers. Kristen works for Walgreen's, a proud supporter of Red Nose Day. Noses on, everyone! (that's Kristen, on the lower right)
Stephanie Alvarez (Alpha Pi alumni) had the privilege of having her son featured as the Enfamil Baby for the month of June! Here's Zander, cute as he can be! Stephanie shared her story at enfamil.com/bettertogether to help other moms.
Rachel Hagemann (Alpha Zeta alumni) bowled a personal high of 245. Our sisters sure do know how to have fun, and to be good at it, too! Rachel is also an avid cyclist.
Tiffany Self Vicars (Alpha Nu alumni) and husband Mike welcomed Aiden Alexander on April 5, 2018. He weighed 10 pounds and was 20.5 inches long. They are both so in love with him and are really enjoying watching him grow! Congratulations!
Arielle Valenti (Alpha Eta alumni) is engaged! Can you tell that from the picture? We will be awaiting wedding pictures!
Sara Richter (Alpha Zeta alumni) and Team Richter, took first place in Flight C of the St Louis College of Pharmacy Alumni Association Annual Golf Classic. Her team also took second place in the team photo contest. Fun was had by all, and most importantly, scholarship money was raised as well!
Jennifer Rhodes (Rho initiate, Chi alumni) has passed her amateur radio technician test! Her husband, Dusty, is quite involved with amateur radio, so he's been wanting her to take this test for quite a while. She finally did, and she's very glad that she sat for the test!
Kayla Braswell (Alpha Zeta alumni) is engaged to Garrett King. The wedding date is quickly approaching! We're looking forward to the wedding pictures!
Christina Procaccianti (Alpha Rho alumni) is the owner of Green Line Apothecary. Her pharmacy was recently featured on the cover of So Rhode Island magazine. They topped the list of family-fun destinations in Southern Rhode Island! Additionally, she was selected as the Southern Rhode Island business community's Rising Star by her peers at the Southern Rhode Island Chamber of Commerce.You may also remember that she was the 2017 recipient of the Distinguished Young Pharmacist award. Way to go, Christina!
Amanda Higgins (Alpha alumni) recently went to an art show and ended up finding her family's old pharmacy a few blocks away. How cool to be part of a pharmacy phamily!
I love to be able to feature news about sisters in our newsletter. Many people tell me this is one of the most enjoyable parts of the news, especially when there are pictures!
If something has happened to you, big or small, please let me know. New job? New home? A baby? Engagement? Something serious? Something funny? Send it to me! Send a picture too, if you can. You can send it to GVPAlumni@lks.org.
I am looking forward to hearing from you!
APhA Meeting 2018  
The APhA annual meeting was held in Nashville, Tennessee in March. Sisters Amanda Higgins, Nicole Lombardo and Melissa O'Brien, along with Managing Director Amy Jurgens, were on hand to meet sisters at our booth in the exhibit hall.
In place of our guestbook (the analog version!), we had sisters register on a handheld tablet. We've been moving towards embracing digital communication forms more fully, and this was our latest version. Sisters told us that they really appreciated it and we were able to capture more data about our attendees than we usually do. I'm truly excited to see all the ways that we are moving forward in the digital world.
Sisters who stopped by the booth were given souvenirs that included our new logo. I can't tell you how much these new logos are loved by our sisters. I'm so excited about the results of our rebranding!
See EWE in Anaheim, California in December for ASHP!